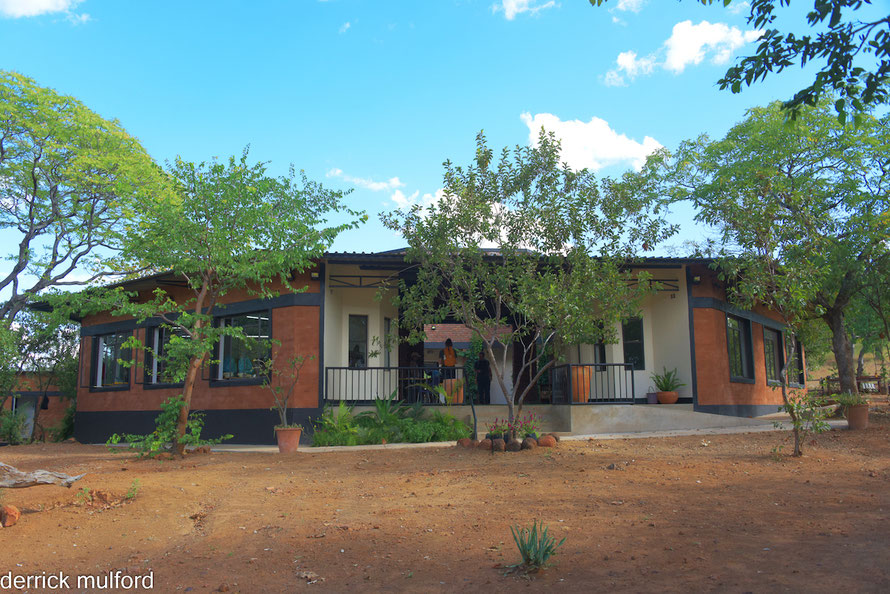 PHOTOGRAPHY BY HANNA WIGART, DERRICK MULFORD, GEORGIE FOX, TAY BELCHER AND KATHLEEN FELTHAM THROUGH ALERT, AND EMILY VALENTINE WITH OUR GRATEFUL THANKS
One of the major lessons learnt during the pandemic was the need for a diversity of skills in the Victoria Falls area that was not dependent on Tourism solely. With this in mind, the iThemba Centre was conceptualised as a place to teach valuable income earring hand skills for youth and women. Thanks to a legacy donation, the Centre is now open and operational under the group name of Batoka Creatives. 
Shaped uniquely like a beehive cell, the building was designed by Christie Hasted Sabag to create a central courtyard with rooms wrapping around this. Our Indaba (meeting) courtyard is the start of all projects. We meet with village elders and headmen and the actual people that projects are focused on uplifting, to discuss the viability of each before we begin.
Batoka Creatives operates as a separate income earning project, funds from which sustain each project and improve wage earning amongst the group, allowing for expansion of our skills training areas and the number of people in each project.
Currently operational are beading, sewing, embroidery, felt work, crochet and snare wire jewellery projects. We hope to receive more funding and move into woodworking and welding.
The first project to start at the centre was beaded jewellery. Using the finest quality Miyuki seed beads, interspersed with Czech crystals and silver and gold plated pendants, the team produces stranded necklaces and silk bracelets along with loom woven bracelets in vibrant colours. This project has proven to be extremely successful, with products available in many locations in Victoria Falls including at our Centre shop and in the Batoka Creatives retail outlet. Amatuli in South Africa now stock a wide range of designs.The pieces are available internationally for wholesale via Powered by People.
The viable success of this first project has shown the great potential of the various projects for income earning and sustainability - exactly what we dreamt the centres would be used for!
The initial project started at the Centre was sewing education - a natural extension of our Girl's Dignity project which continues to expand. Building from this concept, a group of 4 trainers to be were selected and under the wonderful tutelage of Winnie Manenji, our gifted head of project, learnt the basics of sewing, starting on hand powered machines, moving to foot treadle power and finally onto electrical machines and overlockers. Once these trainers had reached a high level of skill, they in turn became educators. Now, several mornings a week, groups of women come and work through the training program developed to up skill them in general sewing skills. We look forward to our first graduation and fashion show in June 2023 from the first intake, who will be ready to start their own sewing businesses.
On the other weekdays, the trainers supplement their income by making up clothing, tote bags, interior items and gift packaging, in bright traditional fabrics and local cottons, that are sold at our Centre shop and in the Batoka Creatives retail outlet.
A small group of embroidered that had disbanded when another project stopped have rejoined together under the Batoka Creatives group to produce highly detailed hand embroideries inspired by nature on cloth and felt. Sunglasses cases, babies' mobiles, decorations, cushion covers, napkins and many other decorative items are coming to life under their nimble fingers.
Using amigurumi techniques, working in fine crochet cotton, another team of ladies create whimsical keyrings, rattles, pram clips, toys and dummy holders featuring baby animal characters in soft colours. All items made are sold at our Centre shop and in the Batoka Creatives retail outlet.
The newest project coming online at the Centre is Mopane recycled snare wire jewellery. Just as the Mopane tree brings optimism to the people and animals of Zimbabwe, as the first tree to burst into leaf after the long dry season, so too does our range of snarewire jewellery bring hope.
The Victoria Falls Anti Poaching Unit (VFAPU ) and the Wilderness Scorpions Anti Poaching Unit remove over 200kg of snarewire a year from Victoria Falls City and the surrounding parks areas. The majority of these snares are placed by people who subsist well below the poverty line and poach to feed families and create income from selling illegal bushmeat and animal products. It is our mission to reshape these people's lives by turning the snarewire into a beautiful jewellery product, so that they can earn viable incomes and, through education programs, come to see the true value of our country's wildlife resources. This income injection, along with the educational training given means that the need and desire for subsistence poaching will be drastically reduced. A portion of the funds earnt are donated back to the anti- poaching teams, to assist in combating the large-scale commercial poaching that is the true threat to our endangered wildlife.
To transform this harsh, rusted and deadly wire into objects of desirable beauty has been a journey into the past for techniques and now into the future for design. Local jewelers Ndau Collection team members Joe Mutoko and Ngoni Chivasa came together with Children in Wilderness to develop methods of working with the inflexible material as a beginning point. Well known designer Christie Halsted has now taken the lead, working with Obert Monga, a member of the Ruoko artists' project, to create a wearable collection of jewellery. 
Reshaping lives one wire at a time - Launching soon!