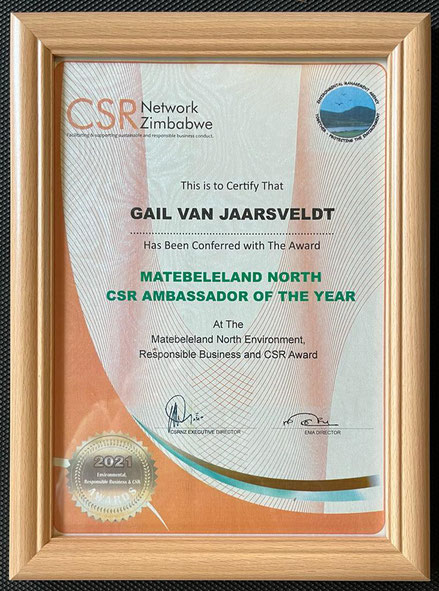 We are very proud that the Environmental Management Agency (EMA) and Corporate Social Responsibility (CSR) Network Zimbabwe recently chose to award one of the key Jafuta Foundation founders, our indefatigable leader Gail van Jaarsveldt with a special role - Matabeleland North CSR Ambassador of the Year for the exceptional work she has undertaken in empowering the community and protecting our environment, despite the debilitation caused by COVID-19.
As leader of our team on the ground, Gail never stops and it it is her drive and determination that make our projects so successful. During the incredibly difficult times our little city faced during COVID-19 lockdowns, Gail never let it beat her and transitioned the Foundation into equipping medical facilities and feeding thousands of children, as well as keeping all of our projects on track, boosting community garden growth to feed people and produce income. Her vision and strength carried us through, both as a team and as a city and we are so happy to see this acknowledgement of all the incredible work she headed up. To find out more about Jafuta's work during the pandemic, please take a look here.

The award was received on her behalf by our Outreach Director Sipho Moyo and awarded by Minister of State Richard Moyo. Thank you - we completely agree with your choice of ambassador! 

Two of her businesses, Ndau Collection and Elephant's Walk also received an award for Excellence in Community Empowerment and Social Impact for the CSR programs she has set up under their banners. You make us proud to be Jafuta family members Gail!